OctoCue receiver overview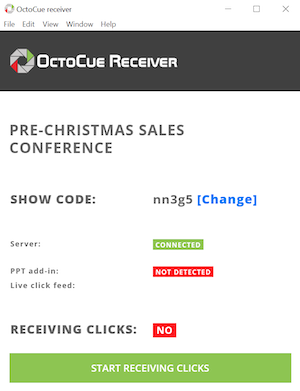 OctoCue Receiver is a small program installed on every computer that OctoCue will control. It receives OctoCue data from our servers and uses it to control PowerPoint, Keynote or a variety of other systems.
The Receiver App currently runs on Windows 10 64-bit (x64) and macOS. We don't support 32-bit Windows.
Once setup and connected to a show, OctoCue Receiver runs in the background on the host machine.
There's no limit on the number of receiver machines that can connect to a single show. Typically, a main/backup pair of machines would be connected to the same show, allowing for some redundancy while live on-air.
OctoCue Receiver is free - see the downloads page for more details, including installation instructions.
Advanced options
By default, OctoCue Receiver controls PowerPoint by emulating keyboard keypresses - PgDn and PgUp. Users can change these mappings by editing the receiver configuration files.
It's also possible to control third-party applications using OSC, UDP and TCP commands - this includes tools such as vMix, BitFocus Companion and BlackMagic Design products.