By default, OctoCue offers two control buttons - Next and Back. This is great for controlling slides, but with custom button setups, it's possible to offer alternative clicker layouts for a wider range of control scenarios: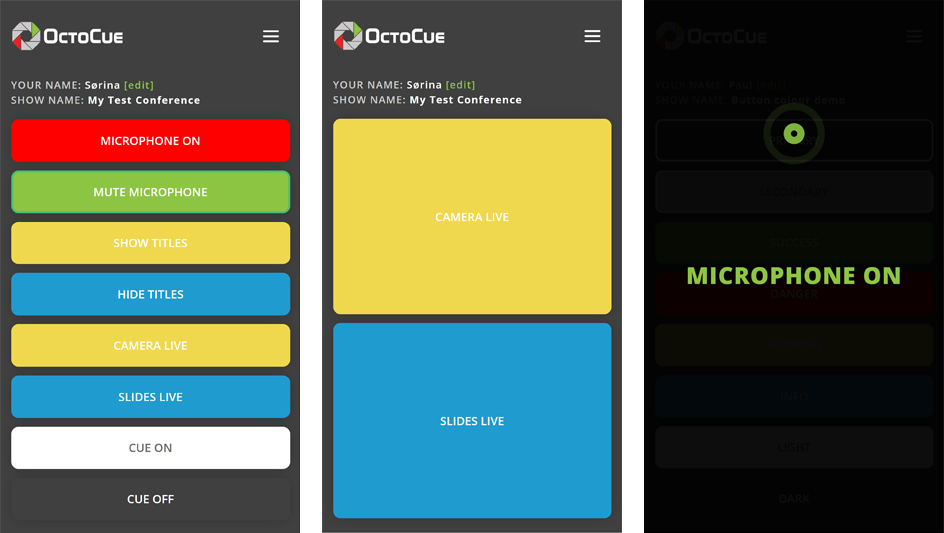 info
Custom buttons are in beta testing and are on request only - drop an email to contact@octocue.com if you'd like to give this feature a try.
Setup examples
There's loads of scenarios where custom buttons can be used in your show flow - here's a few examples to show what's possible:
Allow your presenters to switch the webcast feed from live camera to PowerPoint slides themselves
Allow live translators to show/hide their own PIP overlay as required
Give control of lower thirds to a remote show controller
Allow a remote producer to start/stop a speaker timer clock
Turn on the coffee machine in the green room before driving in to work
note
In all these scenarios, you'll need systems that can be controlled using the OSC, TCP or UDP network commands that OctoCue can output.
There's a huge range of equipment that can be controlled this way, but a few of the popular options would be:
To find out more about custom buttons on OctoCue, read through the rest of the documentation here.