Live PowerPoint notes are available on all presenter clickers when the PowerPoint add-in is running.
This is normally a mobile device - but for some setups, a dedicated screen showing notes can be useful.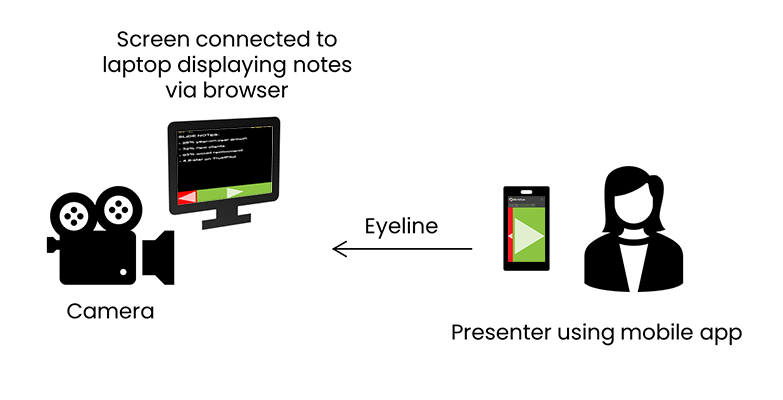 Benefits
Separating out notes and buttons onto two screens can:
Improve the presenter eye-line
Give the presenter a simpler clicker
Allow for bigger notes screens to show more text
Setup
To set this up:
Connect your presenter to your show in the normal way, using the mobile app
Setup a separate device (normally a laptop) with an optional external screen for the notes
Connect the laptop to the same show using the URL details below
in OctoCue, notes are only displayed on active clickers - so to get your separate notes display working, you'll need to:
Disable auto-mute - details here
On the show control dashboard, activate both the presenter clicker (so they have slide control), and the separate notes display (so they can see notes).
Browser URL
Set the following flags in the URL you use for the notes display:
code=a1b2c Your show code
name=Jo+Bloggs+show+notes A descriptive name so you can differentiate between the presenter buttons and the second notes display
view=buttonsAndNotes Will prompt the web browser to jump straight to the notes page
invite=0 Will skip the invite system and go straight to a browser clicker
notesSize=20 Preset the notes size
Full link example
https://app.octocue.com/clicker
&name=Jo+Bloggs+show+notes
Limitations
While you can manipulate the text size, there's currently no way to auto-scroll (or auto-fit) the notes text, so you'll need to make sure all the notes fit on-screen. If necessary, split the slide deck up to allow for multiple clicks (and notes) per slide, or have a separate operator scroll the text windows for you - maybe via TeamViewer or RDP.
While you can manually control text size using the on-screen icons, there's currently no automated way to vary text size on slide-by-slide basis.