PowerPoint add-in: Installation
Installation
Download the .zip file from our downloads page and save it to your computer
Unpack the .zip file to a temporary folder
Run setup.exe from the temporary folder
Once installation is complete, delete your temporary folder.
This COM add-in for PowerPoint requires some supporting frameworks, including:
Microsoft .NET 4.7.1 (66MB)
Microsoft Visual Studio 2010 Tools for Office Runtime (38MB)
Your computer will automatically download and install these items direct from Microsoft, if required.
Finally, if PowerPoint is currently running on your machine, you'll neeed to close and re-open it to load up the add-in.
Windows Defender SmartScreen
Depending on your system settings, installing this plugin may trigger Microsoft Defender SmartScreen warnings.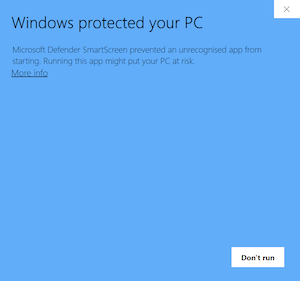 This is because Microsoft have not seen enough installations of this plugin to profile it properly, not because it's malicious.
Follow the More info and Run anyway to allow the add-in to install.
If you're still having issues, please let us know.
Check the Add-in is running
The OctoCue PowerPoint Add-in has no control interface - it runs completely in the background. To check if the add-in is running correctly, open the listener app and check the PPT add-in field.
This will show Not detected or Running depending on the add-in state.
Note that the add-in will only run when PowerPoint is open on your machine.
You can view a list of active add-ins by opening PowerPoint and browsing to File > Options > Add-ins. Here you can also enable and disable the add-in using the Manage COM Add-ins option.